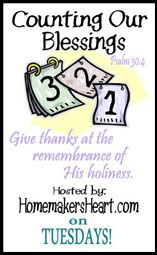 I'm starting a new weekly post, thanks to
A Homemaker's Heart.
Counting your blessings is always a good thing, and something we're trying to instill in our kids. Patrick and I have realized that we can be amazingly discontented with God's provision... it's something we are working hard on. So, to help me along, here we go...
My blessings:
1. My beloved husband, who I've been married to since St. Patrick's Day, 10 years ago.
2. My beautiful firstborn, Katie, who is joy to my heart and sunshine to my soul.
3. My amazing son, Patrick (or Danny... depending on who you're talking to...), who is a constant source of entertainment.
4. My sweet little Sean... it's hard to get more adorable than him.
5. Beautiful Caeleigh, who I get to know more and more deeply every day.
6. My bubble of laughter Delaeney, and her monkey-faced smile.
7. Precious little Liam, our sweet baby boy, and his sweet baby kisses.
8. Having a warm home to be in and to come home to.
9. Having an amazing man who actually does come home every night, and isn't out running around. He enjoys being a family man, and I know we are not just the center of his world, but we ARE his world.
10. Tax returns. :) Need I say more?
Every week, I'll post 10 new blessings. I hope you enjoy them, and consider joining me!